Architectural choices
The project inherits the historical and symbolic features of the block. Using the guidelines of the existing buildings, a double curtain is rebuilt.
The residences are enhanced by large staggered balconies and hanging gardens with a strong visual impact.
The large entrance hall and common spaces lead to the internal courtyard where the visual comfort of the greenery is combined with the acoustic comfort of the internal garden.
The new quality
of living in Milan
The best contemporary living standards, within the urban center.
High energy quality, free floor plans, limitless brightness, large terraces, exclusive gardens, wellness area and swimming pools.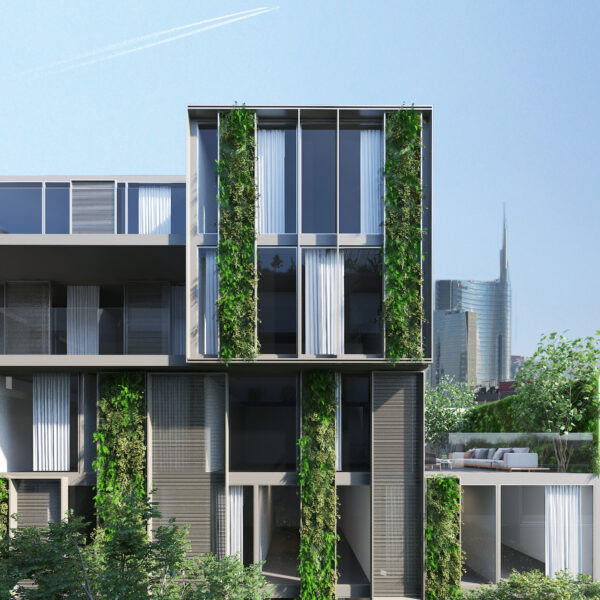 01 The brightness
Essential, light and bright elements
The large windows make you lose the spatial concept and immerse yourself in the heart of the city, surrounded by natural light and in an intimate and reserved atmosphere.
02 The entrance hall
A path through transparencies and perspective games
The welcoming entrance hall reveals the greenery of the internal courtyard. According to a peculiar characteristic of the Milanese buildings, we want to create a discreet relationship between the public space and the greenery of the new courtyard.
From the hall, through a path characterized by transparency and perspective games, you enter the lift and stairwell area which will become an open "hinge" between the portion of the building on the street and the body on the courtyard.
The hall project and its exclusive furnishings are signed by the architect Carlo Colombo and made by the most important companies in the sector.
03 The green courtyard
The surprising green heart
The building offers large green spaces on the ground floor and a gym for exclusive condominium use overlooking the internal courtyard. We find large relaxation areas, where you can relax and enjoy the privacy of the internal courtyard.
04 Wellness Area
Mental and physical well-being
Great care has been taken in the conception and design of the wellness spaces, with a gym inside the residential complex, located on the ground floor.
The lowest common denominator of this space is well-being: mental well-being and physical well-being. The balance of the senses is achieved thanks to the harmony and peace that this exclusive space that overlooks the green courtyard provides. Immerse yourself in nature while remaining in the city. Enjoy peace, without thinking about chaos, through an experience of the five senses.